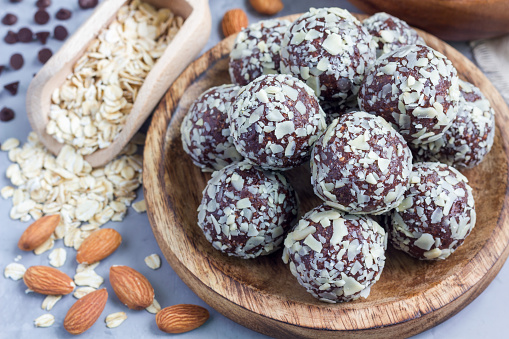 Dear friends, I wanted to share with you these delicious bites that I like to make but I always make some changes when I make them. Whatever you want to add, would be perfect, you can choose different nuts or dry fruits as you wish.
From Shaklee Naturally!
Ingredients:
2 scoops Pumpkin Spice Shake or ( any shake that you have )
10 dates, pitted
1 Tbsp. maple syrup
1 tsp. vanilla extract
3/4 cup rolled oats
1/2 tsp. cinnamon powder
1/4 cup pumpkin puree
1/2 cup almonds, crushed ( nuts or anything you like )
Directions:

Add all ingredients in a blender and blend until the dates and oats are mixed in. If the mixture seems a bit dry, add a little water until the right consistency is reached. Roll into balls and coat them with crushed almonds and freeze for 30 minutes. Store in an airtight container and keep refrigerated for up to 1 week.
Enjoy your week,
Leave a message or ask me a question!
Gaétane