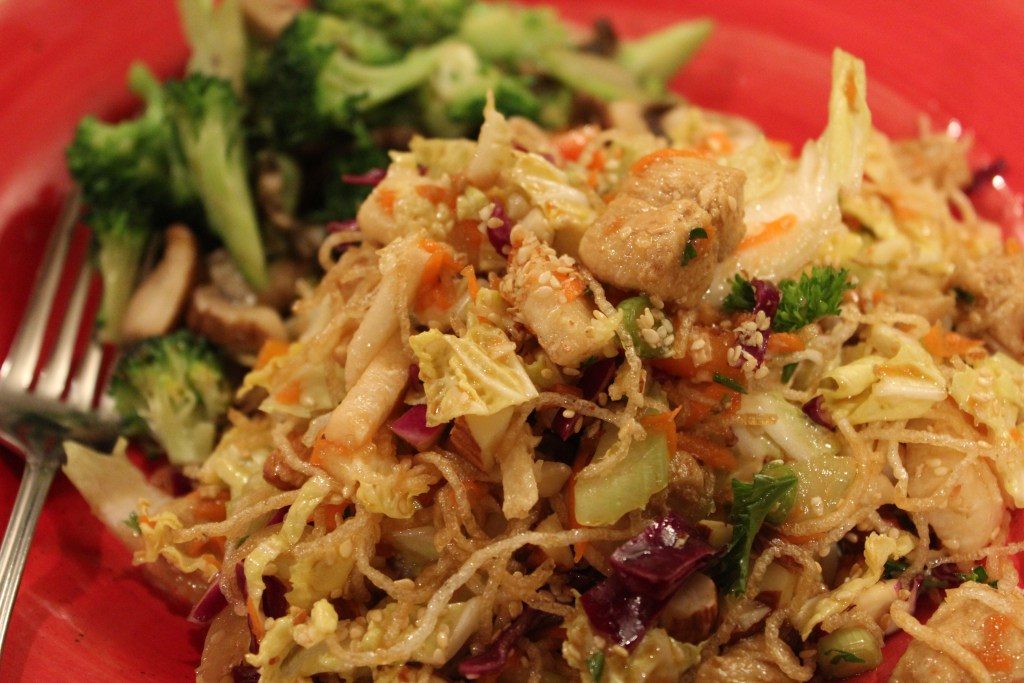 In the Fall we like to cook some good meals while preparing for the Winter. Here I have a recipe that you are going to like. As usual, you can still adapt to your taste.
Recipe by: Jennie Brouse
This meal-in-a-bowl will want you coming back for seconds, it is SO tasty. So make a BIG batch!! It is fun to fry the bean threads in the oil and watch them expand into a crispy pile.
• 1 cup chicken breast, cooked, and cut into bite-size
• 1/4 cup toasted sesame seeds
• 1/2 cup slivered toasted almonds
• 6 cup napa, green and/or red cabbage, finely shredded
• 2 green onions, finely chopped
• 1 medium red bell pepper, coarsely chopped
• 1 cup jicama, peeled and chopped
• 1 cup shredded carrots
• 1 cup celery, finely sliced
• 3 cups olive oil
• 2 oz fine bean threads
• Salad Dressing
• 1/3 cup soy sauce
• 2/3 cup rice vinegar
• 1/4 cup olive oil
• 1/4 cup honey
• 1 Tbs Asian chili sauce
• 2 cloves garlic, minced
• 1 Tbs fresh ginger, peeled and minced
Mix the chicken, seeds, nuts, and vegetables in a large salad bowl. Heat the 3 cups olive oil in a large saucepan to about 400°F. Put in one small rice stick. If it puffs up immediately, add a small handful of sticks. With tongs, turn the sticks over to allow all the sticks to puff. Remove immediately onto a paper towel. Continue until all the sticks are puffed. Add sticks to the salad bowl.  In a small bowl, mix the salad dressing ingredients well. Pour over the salad and toss well. Serve cold.
Enjoy your day!
Gaétane

Please, I would love to hear from you or ask me a question!